In addition to Tempo and Elemental Mage Decks, the release of Hearthstone: Kobolds & Catacombs the "Big Spell" magician established. The "Big Spell" (great magic) magician, that of Profspieler Brian Kibler was created, focuses on spells that are as expensive as possible. These will be used as fuel for the new cards like Wrath of the dragon or Malicious Summoner utilized. This guide introduces you to a variant of the "Big Spell" magician with the new cards.
Hearthstone Guide - Kobolds & Catacombs - The Big Spell Mage
The cheapest spell in the deck transformation, costs 4 mana, all others cost more and are therefore a relatively safe way of sweeping the field with Wrath of the Dragon.
To survive in the early game the 2 tar creepers & doom heralds serve, in the later course you generate armor with the arcane constructors. This means that a burst of flames becomes 7 points of armor.
The relatively expensive spells ensure that your Arkantyrann is free and is particularly useful after a wrath of the dragon. Dragoncaller Alanna takes care of several 5/5 dragons, depending on how many spells you have already used.
As you can see, the complete deck delivers with many small combinations for an extremely high amount of "card value". An Atiesh generated by Medivh the Guardian, created together with Portal: Firelands, 2 servants while you still do 5 damage to the enemy.
Mulligan - starting hand selection
Raven Confidante, Cabal Courier are cheap servants while still providing access to
your spells. The arcane constructors, on the other hand, are more useful later when you have the mana to cast an expensive spell. The tar crawlers are particularly useful against aggressive decks.
Card alternatives:
Unfortunately, due to the matching effects of many cards, swapping is a bit difficult. Only Pyros is not necessary 100%, but works well with Frostlich Jainer. A deck variant could, for example, replace pyros or a transformation with pyro strike. If you want to be on the safe side with spells, you can replace the two transformations with pyrostrike or flame impact. This guarantees more AoE damage with Wrath of the Dragon.
Deck list:
2x Arcane constructor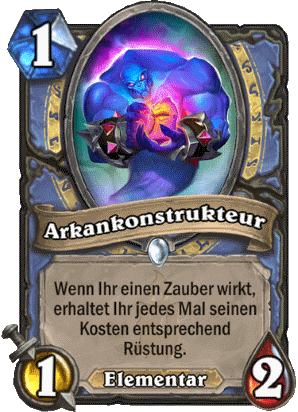 1x Pyros
2x Raven confidante
2x Herald of doom
2x Acolyte of Pain
2x Cabal courier
2x Tar creeper
2x transformation
2x Arkantyrant
2x Wrath of the dragon
2x Blizzard
2x Malicious Summoner
1x meteor
1x Flame burst
2x Portal: Firelands
1x Medivh the Guardian
1x Dragoncaller Alanna
1x Frosty Jaina
Decklist for direct import into the Hearthstone client:
Just copy it and go to Collection -> Create new deck with the code in the clipboard:
AAECAf0EBuwHobcCysEClscCm9MCo + sCDE2KAckD + wyjtgKwvALKwwLb0wLV4QLX4QKW5ALX6wIA
If you liked or helped this Hearthstone Guide, please leave a Like Facebook for this. Thank you very much and we wish you all the best. You can find more Hearthstone guides on ours Topic Page.