This Hearthstone guide revolves around the popular Hearthstone Warlock Combo deck, which was recently used by professional player Thjis in the Seatstory Cup was played.
Hearthstone Warlock Guide - "Dice Deck"
The deck is about the battle cry and death rattle effect of the new card
 "Carnivorous Cube" to exploit. It destroys a servant when it appears, but summons 2 copies of the servant if it dies itself. If you use the die on cards with strong death rattle effects like one "Void Prince" or a generally strong servant like that "Doom Guard", you can crush your opponent.
The optimal card combination would therefore be Dark Pact, Skull of the Man'ari, Doomguard, Ghost Singer Umbra and Carnivorous Cube.
With the Skull of the Man'ari the Doom Guard comes onto the field without having to sacrifice cards. This is followed by the ghost singer Umbra to trigger the death rattle effect of Carnivorous Cube directly. At this point there are the first two Doom Guards, with a Dark Pact on the cube, the next 2 Doom Guards appear. Ideally, this is 25 points of damage to the enemy. If this is not enough, Blood Reaver Gul'dan will resuscitate the Doom Guards.
The nice thing about the combo is that even parts like damnation guard + dice are extremely strong, even if you can't play the complete 5 card combination.
Mulligan - starting hand selection
Goblin Librarian, Armored Beetle, Mixture Master, Desecrate, and Hellfire are the means of choice for surviving the early game and drawing the cards for the combo.
Card alternatives:
One of the cards that can be easily exchanged in the Hearthstone Guide is Blood Mage Thalnos. Either a Tainted Zealot for magic damage or a prey hamster for drawing cards is available for this.
Deck list:
2x Dark pact
2x Leprechaun Librarian
2x Master of the mixtures
2x Worldly fears
1x Blood mage Thalnos
2x Desecrate
2x Armored beetle
1x Ghost singer Umbra
2x Minor magic amethyst
2x Hellfire
2x Obsessed lackey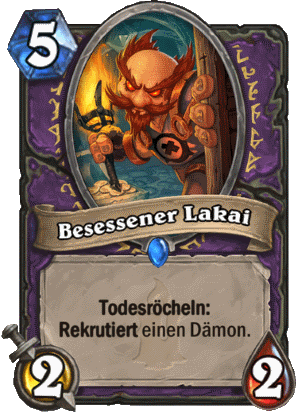 2x Carnivorous cube
1x Skull of the Man'ari
2x Doomguard
1x Soul withdrawal
1x Swirling Nether
2x Void Lord
1x Blood Reaver Gul'dan
Decklist for direct import into the Hearthstone client:
Just copy it and go to Collection -> Create new deck with the code in the clipboard:
AAECAf0GBu0F2wbMCMnCApfTAtvpAgz3BLYHxAjexALnywLy0AL40AKI0gKL4QL85QLq5gLo5wIA
If you liked this Hearthstone Guide and found it helpful, please give it a Like Facebook for this. Thank you very much and we wish you all the best. You can find more Hearthstone guides on ours Topic Page.