Pack the sun block and the engine oil, because in the next Rocket League Update goes to the beach. This is what fans can expect on May 29th Salty Shores Update and lots of sun.
The brand new arena puts Rocket League fun right in the sun and on the beach. But the new map will stay with you even in winter, because it represents a permanent addition to all game modes.
The new arena also starts together with the new arena Rankings season 8. Of course, this means that with the update, the distribution of Season 7 rewards will also come. In addition there are the new "Impact" boxes and a fresh soundtrack.
Strap in, buckle up, and switch on the radio! @RocketLeague X Monstercat Vol. 3 is coming your way with the incredible music of @stephenXwalking, @soupandreas & @iaminverness, @badcmptr, @duumu, @diontimmermusic, @Aiobahn & Vin!

Pre-order now! ???? https://t.co/lmXsVqe1pt ???? pic.twitter.com/DkbIygxFXH

- Monstercat (@Monstercat) May 8, 2018
In addition, there are a number of smaller improvements such as a "Report server"Button with which you can report server problems during a match. From June 11th, the "Beach Blast" event will take place, the details of which will be announced shortly before the event starts.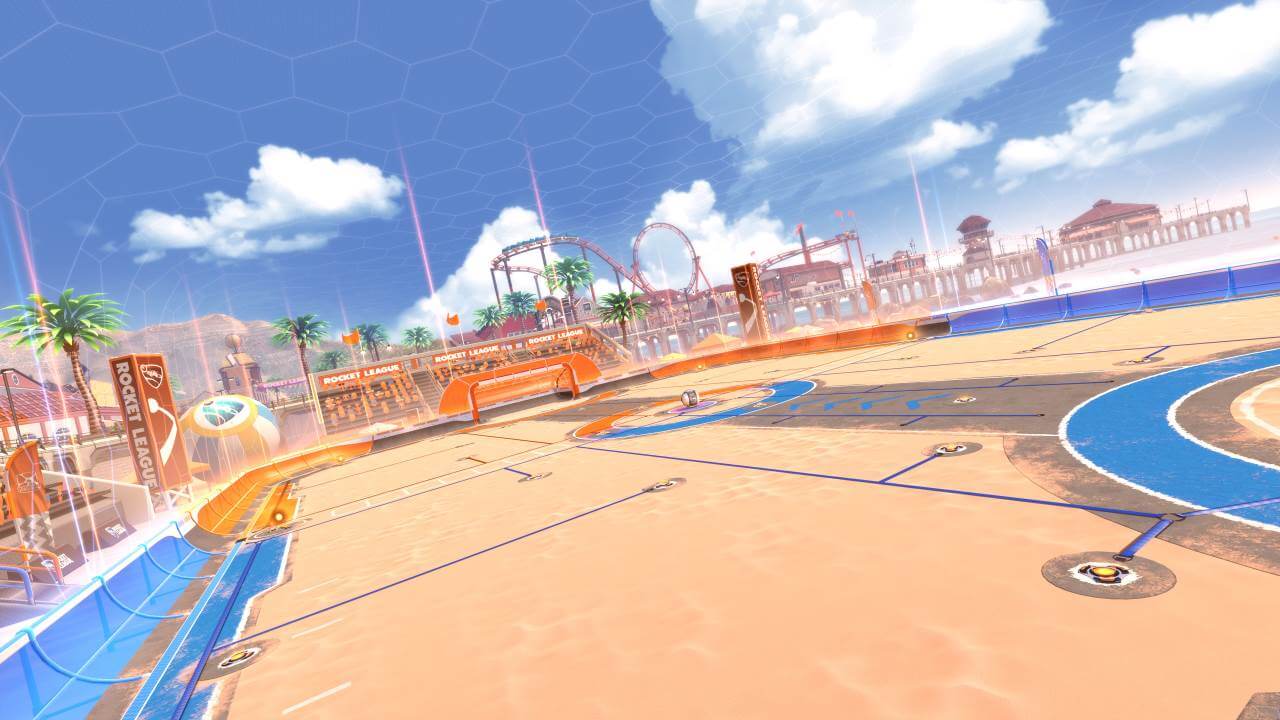 ---
Below you will find the original news from the developers:
Salty Shores Update: Rocket League Hits the Beach on May 29
Which sunblock SPF does a Battle-Car need when it's soaking up rays and playing in the sand all day? We'll know soon, because our new Salty Shores Update splashes down on May 29!
This next Content update is all about Rocket League fun in the sun, starting with the aforementioned 'Salty Shores,' our brand new seaside Arena! As our sunniest map to date, Salty Shores should keep the summertime vibes going year-round as a permanent addition to all online Playlists!
Along with a new arena, we're also bringing you the start of Competitive Season 8, the distribution of Season 7 Rewards, the new 'Impact' Crate, fresh beats from the 'Rocket League x Monstercat Vol. 3'EP and more! You'll also find some nice quality of life improvements in the mix, including a new 'Report Server' button for when servers misbehave during an online match. Our 'Beach Blast' in-game Event is coming soon too, but not for a few more weeks - June 11, to be exact! We'll have more details about Beach Blast closer to the start of the event, so stay tuned!
Check out the full trailer up top and screenshots of our new arena (and our new Battle-Car 'Twinzer') below. Be sure to let us know what you think of the new update on Reddit other Twitter. We'll see you on the beach next week!